Junior Chef #1 – 50's Cafe | June 19
Come and experience as we take a journey back in time and visit classic 50's Diner dishes like cheeseburgers, milkshakes, and fries. All while we listen to 50's Rock 'N' Roll.
Junior Chef #2 – Baking 4 Kids | June 26
Join us for this hands-on baking class all kids will love, they'll be baking cookies, pastries, and cakes.
Junior Chef #3 – Snacks, Apps, and Fingerfoods | July 10
Kids will enjoy this fun cooking class while making bite-size finger foods like mini calzones, chicken bites, stuffed mushrooms, and pizza bites.
Junior Chef #4 – The Great Gourmet | July 17
Kids will tour a different countries thru some of their delicious recipes like Italy, Spain, France, China, and Mexico.
Junior Chef #5 – Chocolate Delight | July 24
For all Chocolate lovers, this class focuses on everything Chocolate from cookies, cakes, and pastries.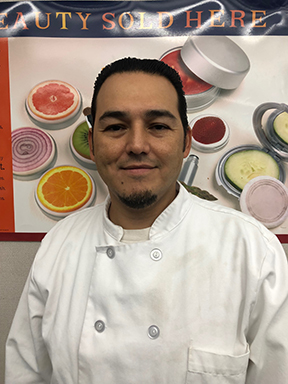 Valley Trails summer camp in Tarzana is excited to offer a weekly Jr. Chef Cooking Camp for kids ages 8-13 at our kitchen located at 6043 Tampa Ave on the campus of Woodcrest School. Campers in cooking camp will acquire all the cooking techniques, knife skills and ingredient preparation expertise needed to make meals that can be used on a daily basis to wow your friends and family.
Our chef, Chef Omar, has worked with kids in the San Fernando Valley for over 10 years to develop a love of the culinary arts, self-expression, and creativity.
Whether the ingredients are sweet or spicy, your camper will find their yum in this exciting camp program offered at Valley Trails in Tarzana.
Our experienced chef will teach the secrets of cooking and provide valuable insight into the culinary arts.
What you will learn
Elevate your passion for cooking
Learn Knife Skills
Techniques for savory and sweet dishes
Develop confidence and poise in the kitchen
Learn cooking methods and how to select ingredients
To get outside your comfort zone
Develop strong friendships with other foodies
Gain experience using kitchen equipment
Each day is devoted to using the essential techniques, from knife skills to measurements. Campers will produce at least 3 items daily at the Jr. Chef Camp at Valley Trails Summer Camp.
Valley Trails cooking camp takes food allergies very seriously. We are very knowledgeable and have been working with kids with food allergies for over a decade, so rest assured your kids can enjoy cooking with us safely.