Mike Stillson (aka Otter) – Executive Director
I have not missed a summer of camp since I was 4 years old. You may even say that I am addicted to the camp experience. I am the person that I am today because of camp. I have formed some of my closest relationships at' camp, and have been shaped by my counselors that I had as a camper, and the campers and staff that I work with as a camp professional.
Every summer I see how camp plays a strong part in our camper's lives. To say that camp changes our campers in a positive way would be an understatement. I watch our campers grow through our activities and see how the intentional programming develops life skills, critical thinking, communications, self-confidence and so much more. Our campers are not just having "fun" at camp, but they are becoming more well-rounded individuals and better people.
There is truly no substitute for the camp experience. I believe that we offer a safe and secure program where campers are able to explore, grow, and develop into confident individuals. I look forward to seeing the smiles on their faces, and hearing their conversations and their memorable stories of their adventures with their camp friends and staff.
I have been the Executive Director of Valley Trails Summer Camp for the past 21 summers, and a professional in camping for over 31 years. I hold a BS in General Studies, and am the President of the WAIC (Western Association of Independent Camps) and a former member of the Southern California Section of the ACA (American Camp Association) Board of Directors. I also serve on the board for CCFY (California Collaboration for Youth) and advocate on legislative issues that affect youth and the camp industry. I am involved in all stages of planning, training, and leading of the programs on a year-round basis.
Brian Jacoby (aka Goat) Director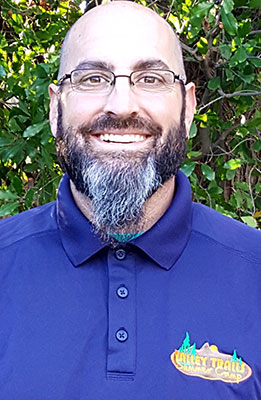 Goat has been involved with summer day camp for over 20 years. He has worked every possible position a summer camp has to offer (camper, CIT, Counselor, assistant director, director, etc.). Goat has a great deal of insight as to what makes a camp successful. Goat enjoys walking around camp and seeing how much fun each child is having. When not at camp, he is a 3rd grade teacher at Valley Alternative Magnet School in Van Nuys. The one thing Goat is looking forward to most this summer is seeing all of the new friendships form among campers, some of which will become lifelong friends.
What makes camp at Valley Trails so special?
Our Leaders!
Other camps hire "Counselors." Anyone can be a "Counselor."
At Valley Trails, we only hire
"Leaders, Role Models, and Super Heroes!"
At Valley Trails, our leaders are specially selected and trained in ways to create a positive experience and a rich interaction with campers. Our Leaders are vastly different than teachers. Leaders don't keep score or grades, they are role models and individuals that help shape the lives of our campers. The best camp memories come from the interaction between Leaders and campers. Valley Trails understands how important this is and only selects Leaders with that passion. All staff go through a nationwide background check and overnight staff training programs.